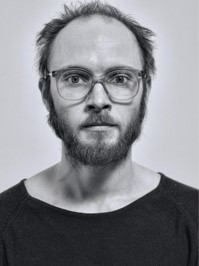 I have collaborated with Lukáš and his wife Tereza Lepold since my arrival to Brno in 2017. Their work fascinated me for their deep dedication and surrender for their artistic ideas, while raisining three amazing children.
With Lukáš and other people, we established and have been working for the association ORBITA since 2017. It is a group for development, teaching and creation of dance and physical art in Brno.
As a performer, I collaborated under Lukáš´s lead on the creation of the performance ORBITA (2017) and SUR+ (2019).
Lukáš is a brilliant dancer whose work extends between detailed virtuosic movements and very physical extreme movement sequences. He inspires and even though modestly appearing on the scene, he is one of the most sensitive and physically able dancers in the area.
His way of being on stage is thanks to his embodied being fully expressive, thorough and full of character.